With many states legalizing medical and recreational cannabis in the last several years, the marijuana industry is growing quickly, and presenting many opportunities. But as with any business, there are risks.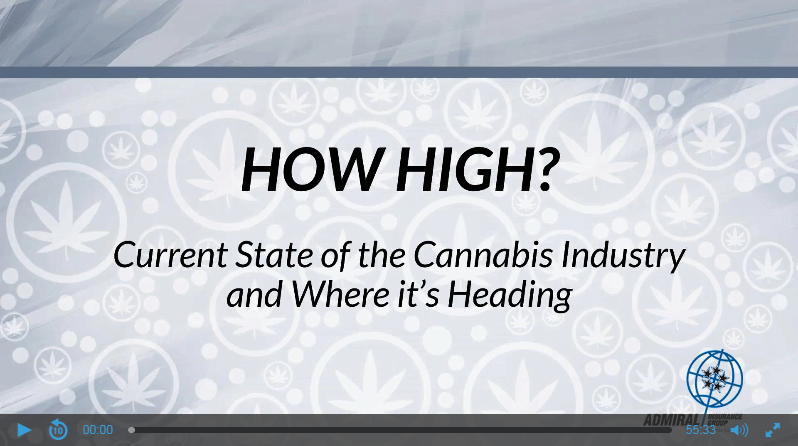 As one of the premier underwriters of cannabis-related liability insurance, Admiral Insurance aims to help wholesale and retail insurance brokers, as well as current and potential business owners in the cannabis industry understand those risks so they can provide or obtain coverage that makes sense.
In this webinar, our cannabis industry experts from across the country start with a broad overview of the cannabis industry today, covering topics such as:
The difference between CBD and THC, and their uses
The current federal position on cannabis, and why it's important
Different types of entities in the cannabis chain, including growers, processors and retailers
Related businesses such as testing labs, marketers and related product manufacturers
Seed to sale: vertical integration in the cannabis space
After discussing the current state of the industry and its future, we move on to some of the risk exposures in the cannabis industry, including:
The different risks in different types of cannabis processing
Vaporizers and vape exposure
Health hazard exclusionary language
On-site consumption in dispensaries
Standard claims that are not cannabis-specific but may be impacted by cannabis
Interstate commerce and multi-state operations
Learn more about cannabis insurance
Learn more about Admiral's cannabis insurance solutions.
Admiral Insurance Group is a leading underwriter of product liability insurance for businesses in the cannabis industry.
If you are a wholesale broker in need of an insurance partner with deep expertise in the cannabis industry, contact us about becoming an appointed broker. If you are a retail insurance broker with clients such as marijuana dispensaries, cannabis product manufacturers or marijuana growers, we encourage you to connect with one of our wholesale partners.
---
Products and services described above are provided through various surplus lines insurance company subsidiaries of W. R. Berkley Corporation and offered through licensed surplus lines brokers. Not all products and services may be available in all jurisdictions, and the coverage provided by any insurer is subject to the actual terms and conditions of the policies issued. Surplus lines insurance carriers do not generally participate in state guaranty funds and insureds are therefore not protected by such funds.
---