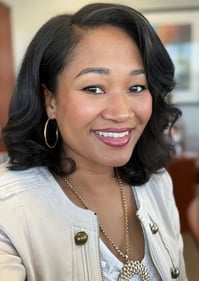 We recently interviewed Tracey Howells, CFO & SVP, Finance at Admiral about how she got started in the insurance industry, shares advice for anyone looking to get into finance or the insurance industry, and the importance of DIB (Diversity, Inclusion, and Belonging).
How did you get interested in insurance?
I was never actually interested in insurance. I never even thought of it as an option. I had the opportunity to become an INROADS intern during high school. INROADS is a program that delivers leadership development programs to underrepresented students as they enter college and throughout their career. Through this program I obtained a four-year internship with Continental Insurance where I interned each summer in different departments such as Claims, Risk Management, Underwriting and Information Technology. I was offered a position when I graduated but decided to work for a Big Six public accounting firm instead. I thought I was running away from insurance since I really didn't feel like it was my jam at the time… as soon as my firm found out I had interned at Continental Insurance they immediately placed me on the Metro-NY Insurance team and then I continued my journey by auditing insurance companies such as Prudential, Blue Cross Blue Shield and a few smaller P&C carriers. I couldn't get away from it and now I am happy it worked out this way. Insurance is interesting and there are lots of different disciplines within one company – claims, finance, underwriting, actuarial… not to mention it is a very secure industry to work. Insurance is always needed.
What advice would you give to someone trying to get into finance or insurance?
Talk to people already in the industry. Keep an open mind and learn about the different areas and see what aligns best with your interests. I knew that I wanted to work in finance, but it was only after working in the industry for a few years did I discover that there are many other areas of interest. Yes, we offer insurance to our customers, but we also offer a variety of careers to our employees as well as the opportunity to learn a new skill if you decide to make a change. Most importantly, work for a company that has values and cares about its customers and employees. We spend more than 7 hours a day at our jobs so you want to be at a place that, not only provides you with financial stability, but also gives you a sense of belonging, meaning and satisfaction.
How can we better implement DIB into our business?
Provide opportunity AND access to everyone. Encourage open and honest dialogue. Educate others on unconscious bias. The best way to accomplish this is through Executive sponsorship/ mentorship for underrepresented employees and continuous training and Q&A sessions with those with different experiences. Sponsorship will help ensure that proper networking and relationship building is a part of the overall development program. Having open dialogue, training and providing a safe psychological space where diverse ideas are welcomed will also foster an atmosphere where differences are embraced and real learning and innovation happens.
Why is it essential to have a diverse work culture?
Part of what is great about Admiral is the openness that we have with one another and access to Senior leadership no matter where you are with your career. People want to be heard and also want to be a part of the company and play a part in our success. Without a diverse work culture those in the minority will not feel they have a voice and most likely be reluctant to share their ideas and experiences. A diverse culture creates a safe space and essentially demonstrates that we mean what we say. "Deeds not words, shall speak to me".
What would you like to see in the coming years when implementing DIB initiatives?
I would like to see DIB initiatives as a core part of our culture and not anything special we have to do. I want inclusion to be second nature and a natural part of our decision making.