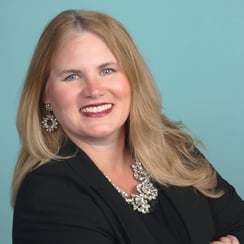 For Women's Equality Day, we spoke with Kimberly Caputo, Admiral's Director, Facilities & Administration, to get her perspective on diversity, inclusion, and belonging as a woman in leadership.
How did you get into facilities management?
Being a part of insurance and facilities was pure fate. I graduated from college with a degree in hotel management/restaurant management and hospitality sales & meeting management. I had the opportunity to plan weddings, coordinate large CE events, and manage conference centers. In 2008, most hospitality jobs dried up and after a recommendation, I found myself in facility management. I cannot put into words how grateful I am that someone saw the potential in me to work in facilities management and make the recommendation. I really can't imagine doing anything else. I absolutely enjoy what I do and am so appreciative of the chance to do what I love.
What obstacles did you face throughout your career? How did you overcome them?
I would actually like to talk about an incident I experienced in college during my hospitality law course because it is something that still resonates with me. The professor had a unique way of calling on students, instead of raising your hand, you rose from your chair and stated your last name and last initial. For example, if I were in the class today, I would stand and say "Caputo, C." A little intimidating but I wanted to participate so I did just that and instead of allowing me to answer the question, the professor interjected with the following: "You have three strikes against you already." Some of the strikes included being a girl, having long hair, and being attractive, and therefore I would not be taken seriously.
Although I recognized that some of the qualities that he stated were facts, I was put off by hearing these qualities were "strikes" against me. I also could not accept the comment that I wouldn't be taken seriously.
For the duration of the semester, I spoke as little as possible as my confidence plummeted even though my grades were excellent. With one direct statement to me, the professor took away my voice, and the ability to advocate for my own ideas, and could have impacted my professional journey. I never confronted the professor but it took a long time for me to regain my "voice" and offer my professional opinions again. To overcome this, I remind myself that it is acceptable to self-promote ideas and that I bring value to what I do.
What advice would you give to someone trying to get into facilities or insurance?
Be curious about everything. Learn your trade and continue to learn. Stay current and be open to change. In fact, be a change advocate. Facilities has become so much more than the physical workplace. You will need to focus on the workplace, technology, and the company culture. And of course, be your authentic self because being you brings value to your company.
What advice would you give your younger self?
In your formative years, there will be a lot of guidance from people telling you what they think you should do or not do. Always follow your gut and do what makes you happy. Don't be afraid to put yourself out there and try new things. Take the risks and always believe in yourself. It is okay to fail (and you will, my goodness you will!) as long as you tried your best and learn from the failures and mistakes that life hands you. Your future is not set in stone, so be okay with change and take advantage of retirement investments and saving plans super early. Spend time with your family – your job will always be there but one day the inevitable will happen, and your loved ones will be in heaven. Enjoy the good with the bad and keep smiling. :)
Why is it essential to have a diverse work culture?
I think when people bring their authentic selves to the table, free to provide their unique perspective, it not only allows Admiral to gain a portfolio of skills but builds a bridge of trust and respect that promotes a positive workforce and business.