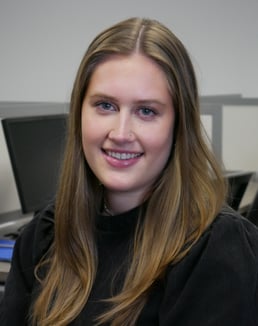 For National Women's Equality Day, we interviewed Elly Cook, an Associate Underwriter, about her personal journey into insurance and why diversity, inclusion, and belonging are important in the workplace.
How did you become interested in insurance?
When I was in high school and college I used to say I wanted a job that was an integral part of "how the world works". Sort of a strange thought looking back, but I noticed in my classes that it seemed the most innovative companies were able to do what they needed to do because they had insurance (and a long list of other financial backings) that allowed them to operate securely. We talk about this a lot when we underwrite technology because we have to be able to understand brand new technology products and services in order to properly provide coverage. It is true, especially in E&S, that insurance backs the ever-changing world we live in today, which I think is pretty cool.
How did you get into underwriting?
Two other fantastic women got me into the industry! One of these women, who now works at Admiral as an Associate Underwriter, was finishing up at Temple University when I was a Junior. She suggested I change my major to Risk Management and Insurance because she was loving her classes and was really excited about the various career opportunities presented to her. She then graduated from the program and worked on the broker side for a while. Later, I met the other woman, who also works at Admiral as an Underwriter, at an intern fair when I was finishing up my degree. We hit it off and she brought me to Admiral. I'm still on her team and was also eventually able to bring the other woman that I mentioned previously to the Admiral team. It came together quite nicely as I get to work with both of them every day.


What advice would you give your younger self?
I would tell younger Elly to start practicing involving herself in conversations in classes and at networking events. It can be intimidating to speak up and contribute your thoughts and opinions, but like anything else, it just takes a few times before you realize it isn't so scary after all. I would tell her that people do want to hear what she has to say.
How can we better implement diversity, inclusion, and belonging into the industry?
As a woman, I of course would love to see more women across the industry. That being said, my being a woman doesn't exclude me from the responsibility to actively seek out and relate to those who are different from me. We all have that responsibility because it's human nature to gravitate toward people who feel familiar to us. It takes intentional effort to unlearn those unconscious biases and seek out similarities within all of our colleagues, especially those who are different from ourselves. Because bias can be hard to see or point out, I think creating hiring teams made up of different gender, race, experience level, and backgrounds would be beneficial to all businesses. One hiring team member may notice a different potential in an applicant vs. another hiring team member. Collaboration is super important because we all relate to others differently and need each other's help to change it up.
Why is it essential to have a diverse work culture?
It is absolutely essential to have a diverse work culture because everyone's mind works a little differently. I touched on this a bit above, but our backgrounds, upbringings, education, and more contribute to how we solve problems and collaborate. When we bring varying perspectives together, we can create something completely new and that's when real growth and progress are made. If I was in a room full of 10 Elly clones we wouldn't get anything done!