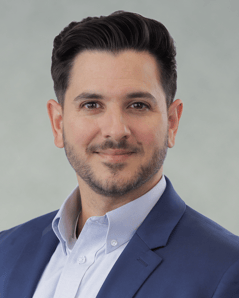 For Hispanic Heritage Month, we interviewed Michael Schmidt, a Clearance Manager, about his personal journey into insurance and why diversity, inclusion, and belonging are important in our business.
How did you get interested in insurance?
Insurance as a field was not even on my radar. I was not sure if I had the right skillset or personality to be successful. And honestly, most of that was based on my own ignorance about the field and not taking the time to learn about the many, many opportunities and possibilities the insurance field provides.
I happened to have a friend in the field who basically said "c'mon, give it a try" (feel like everyone I know has had a similar experience, LOL). And from day one, I realized this is an exciting field made up of some of the best people I have ever met – seriously, made some wonderful friendships.
From there, I dove into some of the most fulfilling work experiences in my life, and it seems that each year, I learn so many new things and can apply my talents that make me unique.
What advice would you give to someone trying to get into insurance?
If you are looking for a challenge in a field that is quickly evolving, apply! Be open to taking an internship or an entry-level position to get things started.
Also, do some research – there are many opportunities throughout the industry. Nowadays, universities offer degrees such as Risk Management that will prepare you for a career in the industry.
Lastly, network, network, network. You will form many lasting relationships and never know how this will help your next career opportunity.
What advice would you give your younger self?
To my younger self and admittedly my current self:
Be confident, have courage and always be willing to "step into the arena." Brené Brown reference here and one I think about often. Show up and be seen. Life may throw challenges at you, but at least you show up and become a better person for it.

Stay curious and never stop learning; it will serve you well over and over.

And importantly, know your value. You bring a lot to the table!
How can we better implement DIB into our business?
The industry as a whole can do a better job communicating to everyone what this industry is all about and the expansive opportunities that exist. We have an opportunity to attract a wide array of talent with many different backgrounds, especially at a young age. We have a responsibility to demonstrate the appeal of this industry to EVERYONE.
People Leaders, including me, have tremendous influence within their organization. Be willing to be vulnerable and share your stories. By sharing your story, it will help others understand that this is a safe place where everyone is accepted.
Understand that we all have unconscious bias. Accepting that is a huge step toward progress. No one has all the answers. Ask for and listen to alternative perspectives and be ready to learn along the way!
Keep the conversation going. Our commitment to DIB will reward us all. It will simply become "what we do."
Why is it essential to have a diverse work culture?
My favorite word…INNOVATION! A diverse work culture undoubtedly brings the different backgrounds and perspectives we need to provide innovative solutions for our customers. We build a stronger company by having an inclusive and diverse workforce.
What does diversity, inclusion, and belonging mean to you?
DIB means that everyone is accepted and encouraged to be their true selves. I have many characteristics that make me…me. I deserve to be comfortable being me. Everyone does.
We spend A LOT of time at work and engaging with our colleagues and partners. It is imperative that we continue to have a strong culture of DIB and continually improve.